There are so many fun books out there that are generally missed, I felt I should compile a simple list of books that everyone who is interested in Obscure Occult Oddities should have in their personal library.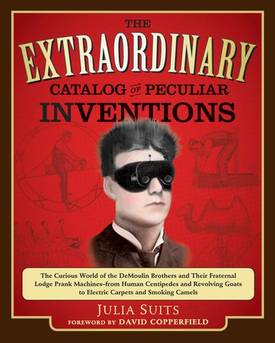 The Extraordinary Catalog of Peculiar Inventions:
The Curious World of the Demoulin Brothers and Their Fraternal Lodge Prank Machines
by Julia Suits

Defense Against the Dark:
A Field Guide to Protecting Yourself from Predatory Spirits, Energy Vampires and Malevolent Magic
by Emily Carlin


Animals of the Ocean, in Particular the Giant Squid
by Dr. Doris Haggis-on-Whey & Benny Haggis-on-Whey

Encyclopaedia of Hell:
An Invasion Manual for Demons Concerning the Planet Earth and the Human Race Which Infests It
By Martin Olson

Mail-Order Mysteries:
Real Stuff from Old Comic Book Ads!
By Kirk Demarais
DISCLAIMER: I am, by nature, a skeptic when it comes to thaumaturgical matters. Therefore, the books listed do not have any real correlation to my own personal beliefs, but are good reads.
-RD-